Ok, so Sunday started not enjoyable as the rest of the week. Sometime around 3:30AM the smoke alarm started to let off these quiet little blips. About six. Just enough to ruin was little sleep I was getting between tossing and turning in a strange bed. We rolled over, and discovered we had no power. I opened the door, and the hallway had no power either and the fire doors are closed.
I went to the lobby, and discovered the only 3 people had bothered to get up. Out of a whole hotel. That shocked me. It turned out that a drunk driver had hit a pole and took out the… what's it called?...generator?… and the whole side of the street was out. But that was the funny part. It came back in weird chunks. Our hall got light. Some didn't. some people had power and no TV. Some had nothing. Some people lost power, but their smoke alarms never went off. I think the only thing in common, was everyone's alarm clocks went out, (I thought we should all be giving late check out ;) ). Then I t all came back at about 5:00. I was just getting back to sleep. And the smoke alarm went off again. *sigh*
We were back up again at about 7 for continental breakfast, and more knitting. We checked out about 10 and shortly after I finished this…
It my set of write warmers! Can I hear a whoo hoo? I have been waiting for them for ever, but making them for everybody else. You know how that goes. So now that my sister, SIL, and DH have theirs, this weekend was about finishing mine. Good job I live in Calgary, so I'm guarantee at least one more good snow storm this year to wear them! They are 100% alpaca, and the pattern is from
Last Minute Knitted Gifts
Obviously this is one I love. The only thing I would change is that I 'lost' the pattern in the green, and I might even go down a needle size on this one for a slightly more closed fabric.
While we were out at the car, I looked around and saw it was fairly clear, so I was able to get this…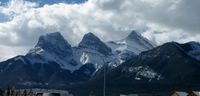 Now to just take a moment to look at that, take a deep breath, and relax. That is what it is all about, isn't it?
It was not long until we had a buffet lunch of pasta, and all the yummies that go along with that! (Salads, garlic toast, sweets)
Then alas, it was time to get in the car, find a station with a working air hose (that is another story for another entry) and get on the highway, to missed family members.
Now that I'm back and rested, I can't believe I have to wait another 6 months to do it again.
It was a thoroughly productive weekend. On top of my FO's, I managed to get in a couple pattern repeats on my
Branching Out scarf
,a couple of inches on my sock, 7 more inches on my sweater, and a good start on another secret project, that have replaced at least one of the one from previous entries.
The only thing I didn't mange to find, was postcards of the area at a reasonable price.
I loved walking around and seeing what everybody else was doing, and now want to try shadow knitting, wire knitting, and bead knitting (again). Maybe I need the break to get some of these things done…
Reading:
A corner of the Universe- Ann Martin
Watching: Things I taped over the weekend.