I am in love! I have seen
Interweave Knits
on line a thousand time, and have always liked what I saw. But then I saw the mini teddy bears, and had to get the magazine. While I was there, I picked up the current edition as well. I am so impressed! If not my favorite, it's defiantly my top 3. I think I'm gonna lock the door for the next 10 months and just knit. What did I like? Well, first of all, the patterns were in my size, which I sometimes have problems with. The pictures showed good detail, there was a variety of patterns and skill levels, I wasn't overwhelmed with tacky, or ads (yes, it has it's fair share, but at least I don't think they overwhelm the patterns. And best of all, I avoid what I think is the most depressing feeling ever, with I call, "did I pay –blank- dollars for this???" We'll see if they are easy to follow and knit up as nicely as I like… tempted to try one of the men's sweaters first…
I have a finished object! I love it! Why oh shy did I not jump on the band wagon a couple months ago? May I present to you… One Skein Wonder!
(sorry, better pic next week, i hope, it appears my camera is on it's last legs...) I really enjoyed knitting this project, as it was very satisfying to be able to watch it grow, as adding 4 stitches every row, it grew fast. It was a good movie watching side- tracked project. Thank goodness once again for stocking stitch! It was an easy to follow well written pattern. The only thing that was a challenge was picking up all those stitches (but isn't it always?) If I had to do it over, I don't know if I would have used acrylic, but that was what was available when I started, so that is what it is. And I think I will wear it in my office, when summer comes back around.
Speaking of mini teddy bears, I had a little time and needed a little break from the Christmas gifts that I have been working on, so during charmed and desperate house wives I made this… !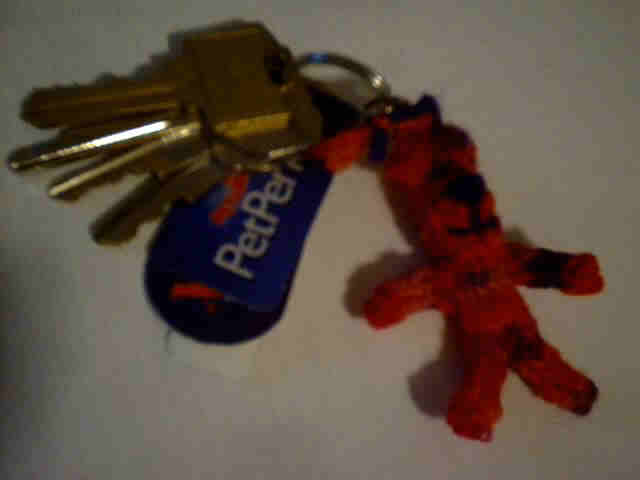 I was going to give him to a little friend of mine, but as he is pink and so darn cute, I think he needs to be my new key chain friend and travel with me, and my friend will get one on another day. Do you think if I start knitting now, I will have enough to hand out for Halloween treats? ;)
Not that he took 2 hours, just that I was distracted at some points.
Am I the only one that does this? DH thinks that I am insane. I will watch a little TV, stir the supper. Watch a little TV, water the plants. Watch a little TV, dust the breakables. (All the time I am watching TV I am knitting of course). He marvels at my inability to sit still, even for a half hour program, forget trying to watch a movie. I have just always been the ultimate multi-tasker, even before I heard that word…
Anyhow, off to get ready for my week…